Wellbeing
The 6 People You Will See At Every House Auction
Your first home auction is the most exciting, carnivorous, gloriously voyeuristic event you've ever been to. Chances are you're not buying yet so you've just slyly positioned yourself under an unkempt hedge and are watching with perverse joy as people far more wealthy and mature than you race enthusiastically towards their shiny new possession.
But by the time you've attended your 20th auction, you've probably thrown your hat in the perilous housing market ring and are perhaps getting absolutely trounced on a bi-weekly basis. Not everyone is an otherworldly stranger now, they are your peers and you're starting to see the same cast of characters at every auction you attend.
Auctions are performances after all, often referred to as great theatre. A relatively redundant method of buying property really, many realtors will admit they are still the predominant method of inner city purchases because of the drama, tension and adrenalin they elicit lead to more general interest in the real estate market. So without further ado, introducing the lead performers in your standard Aussie auction
The Foreign Investor
You may find yourself totally irrationally paranoid about the attendance of 'overseas investors' at every auction. You've more than likely read your fair share of Domain articles about their unquenchable thirst for Australian real estate.
Is he a foreign investor? That dude is definitely on the phone to a foreign investor. That couple look vaguely exotic, they probably have jetted in from Dubai to collect a dozen or so properties. How much money, in how many forms of exotic foreign currency do they have anyway? A BILLION? Is this their hundredth investment property?
The Baby Boomer
They look like your parents, exuding the very same maturity and warmth. They're approaching the entire auction process like seasoned professionals, running their hands thoughtfully across fixtures and whispering assuredly to one another. It's intimidating as hell.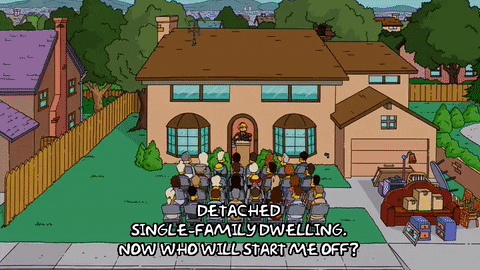 They probably truly understand real estate and flick through the liftouts each Sunday, tutting and cooing at the results over their weak, extra hot cappuccinos. How many auctions have they been to anyway? Is this their tenth investment property?
The First Home Buyer
First home buyers don't always look like young professionals sweating profusely and clutching a dozen worn out Nelson Alexander brochures, although that's a sure fire way to spot them.
Often they are young (like maybe fresh-out-of-trade-school young) and flanked by some very confident parents. How much financial support do they have from their family? Are they about to throw a buttload of inheritance at your dream home?
The Lookie-Loo Neighbour
Let's be honest, the majority of attendees at auctions are gawkers. Good old fashioned Lookie-Loos and Nosey Nancies with nothing but their own personal interests in mind. Many of them will be neighbours, wandering across the road for a bit of early morning theatre to enjoy with their biscotti or the chance to get a glance inside someone's else home.
They're eager to see what their own property might fetch, should they decide to cash in on a ruthless real estate market. If your auction is taking place in today's volatile inner city market, it's probably going well over reserve and they're probably staggering back home with dollar signs emblazoned in their irises.
The Person Who Looks Exactly Like You
They dress like you, they drive the same car as you and they have the same scruffy looking rescue pooch as you. Ugh, you're even wearing EXACT SAME SHOES. Chances are that people whose dream home, suburb and price bracket match yours are going to be fairly similar people to you.
Even though you fancy your tastes to be finely honed and your real estate interests to be uniquely researched there's a good chance you're going to be bidding against people who are so similar to you that you'll start feel like a big old cliché.
The Seasoned Investor / Joker
Often appearing to provide some kind of cursory comic relief, many auctions will boast a middle aged man, not entirely unlike your 'druncle Don', who haggles with the auctioneer, throws in comically low bids, and is generally in attendance to see if he can nab a cheeky bargain.
Often outbid, he is nonetheless an important source of laughs at very tense moments. Unwilling to be outwitted or intimidated by the auctioneer, he can transform horrendously tense congregation of people into a flock of giggly school kids all pretending to be adults, playing with money that they really don't have.
And ain't that the truth about all (most) of us?
---
Emily works in PR and writes for a bunch of music publications on the reg but her greatest life achievement to date is an Instagram profile (@emkeezy) that doesn't ENTIRELY consist of photos of her baby.