Wellbeing
How To Make Cycling A Regular Part Of Your Life
When it comes to the virtues of exercise, cycling ticks a lot of boxes. It's relatively easy, even if you haven't pedalled anywhere since you were a kid. It doubles as a form of transportation, so you'll save money on train tickets and petrol. Plus, it doesn't require any fancy equipment, nor other people – you only need a few things to get you going and you can ride solo any time.
Whether you've been looking on in envy from your bus seat as you watch cyclists make their daily commute, or have been putting foot to pedal for years, we've come up with a few ways that you can make cycling more of a part of your life. From where to find a second-hand bike to keeping safe on the road, and earning points as you ride, we've got all the tips to get your new hobby sorted.
Find the right bike
First things first: you're going to need a bike. New wheels can be pretty expensive – upwards of $5000 for a set of wheels from a good brand – and it can be hard to find a quality second-hand bikes. You could buy one from Gumtree or Ebay but, unless you're an expert, it can be difficult to know whether it's actually in decent condition.
If you're in Sydney, head to Recycle. These guys sell used bikes in good nick from around $250, and will help you figure out the right bike for your height and needs. Similarly, Melbourne-based company Bicycle Recycle have used bikes going from $150 and Queensland cyclists should hit up Cheap Brisbane Bikes. If you're after something brand-spanking-new, visit Bicycles Online for free shipping and a national servicing network.
Get appy
Like they do with most things these days, apps can make cycling easier and more enjoyable. Map My Ride tracks your routes to tell you how far, and where you've ridden; it also lets you connect with other cyclists and cycling groups in your area, and features more than 70 million routes from all over the world, with reviews and information about how difficult the ride is.
We don't think we could find our way out of a paper bag without Google Maps, and figuring out the right direction while cycling is no different. Tap into their cycling mode, enter where you're headed, and the app will tell you turn-by-turn where to go, so you can focus on your burning thighs, not whether you were meant to veer right.
Earn points as you ride
Why not kill two birds with one stone, and earn Qantas Points as you work out? Purchase any Eligible Qantas Assure Product, download the Qantas Assure App and get rewarded for your cycling. Set yourself daily cycle challenges, keep track of your progress over time and invite your friends to participate in challenges, and you'll earn Qantas Points when you meet your daily and weekly goals. The App connects to Apple Health and your Fitbit, and will send you motivational notifications to keep you on track.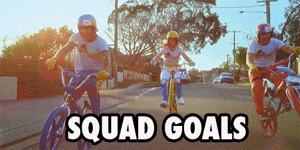 Be prepared
Whether you're cycling at night, in the city during peak-hour traffic, or taking your chance on rocky terrain, you need to have the right gear so you're ready to deal with any situation. Plan on leaving your bike in public while you're at work? You'll need a lock if you don't want anyone riding off with your wheels. It's worth forking out for a decent lock – we'd recommend a D-shaped one, as they're the hardest to break – the more you spend, the less likely someone will be able to steal it without whipping out the power tools.
Riding home from work at night? It's mandatory to have lights to warn people that you're incoming, and to make you more visible to cars. In most states you must have a white light on the front of your bike, a red light at the back, and a red reflector also on the back. Australia is one of only two countries in the world where it's mandatory to wear a helmet (the other is New Zealand). Ensure you've had yours fitted properly at a legit cycling shop – you can pick up everything else on this list at a cycling store, too, as well as a pump, proper cycling clothes, wet weather gear, mud guards, and saddlebags for your luggage if you're planning an epic cycling voyage.
Know the rules
Did you know that in South Australia you need to give a hand signal when turning right or merging into a right-hand lane, but not when you're making a hook turn? And in Victoria you can only ride next to another cyclist when there's a single lane when you're overtaking? Make sure that you know the cycling rules – in some states you will be fined the same amount as drivers, and even have demerits applied to your driver's licence if you fail to follow the rules.
Why not earn Qantas Points as you cycle*? Set yourself daily cycle challenges, keep track of your progress over time and invite your friends to participate, and you'll even earn Qantas Points when you meet your weekly goals. The app connects to Apple Health and your Fitbit, and will send you motivational notifications to keep you on track. Download here.
---
Che-Marie is a London-based writer and editor. Her work has appeared in Australian Gourmet Traveller, Collective Hub and Virgin Australia Voyeur among others. Follow her travels on Instagram @chemariet
*The Qantas Assure App is offered by Qantas and you must be a member of the Qantas Frequent Flyer program and 13 years of age or over to use the App. During the Qantas Assure Wellness Rewards 28-Day Trial, App users will earn Qantas Points without having to purchase an Eligible Qantas Assure Product. Qantas Points earned during this trial will be credited to your Qantas Frequent Flyer account on a fortnightly basis. Once the 28-Day Trial has ended, Qantas Frequent Flyer members who do not purchase an Eligible Qantas Assure Product will accumulate Locked Qantas Points by completing activities through the App. Locked Qantas Points will expire 12 months after the member last accumulated a Locked Qantas Point. Up to 3,000 Locked Qantas Points can be converted to Qantas Points following purchase of an Eligible Qantas Assure Product. Qantas reserves the right to extend or withdraw this offer at anytime.