Money
How To Make Some Extra Cash In The Week Before Payday
It happens to the best of us: payday is coming up but you have a suspicion that you're a bit short on cash. You're worried that you're going to have to rough it for the next week and find yourself freaking out, hysterically searching for 'get rich quick' schemes.
We have you covered with some hot tips on how to top up your bank account without resorting to pyramid schemes.
#1 Sell Your Stuff Online
Chances are you have some gear around your house that you either no longer want, or can live without. The beauty of the Internet is that it allows us to post ads to sell our stuff whenever we like.
So go scrounge around the house and find all your belongings you're happy to say goodbye to, you might surprise yourself with what you find. After all, how often do you use that mountain bike you impulse bought after watching the last Olympics? That's what I thought.
If you're looking to get your dollars pronto, try a site where you can hand over your goods IRL for actual cash. Sending something in the mail and waiting for a PayPal transfer isn't going to help you.
#2 Clean Your Car For Cash
Nobody is actually going to pay you to clean your own car, but we can dream, can't we? But what about all the dollars that have been lost in the seemingly infinite black abyss that is the space between the drivers seat and the console?
There have to be at least a few goldies down there so why not go fishing for them? Not only will you have your newfound riches, you will also gain a sense of accomplishment in completing a job you've been more than likely postponing anyway. Try the back of the couch while you're at it.
#3 Rent Your Room Out
Rent is expensive, and you kind of like camping, right? Well, why not combine the two and reap all of the benefits. There are people looking for rooms to rent all the time, so add yours to their list for some quick cash.
Be sure to look for your potential guests in the right places, posting an open invitation isn't the best method so try and stick to reputable sites like AirBnB and HomeAway. They will handle the money situation for you, which is a plus and you will bypass a lot of the crazies.
#4 Sell Your Skills
Our friend, the Internet, has come through with the goods once more with this genius way to get some extra dosh. People post ads all the time looking for individuals to complete one-off gigs, and you might be able to help out. Dog walking, tutoring and cleaning are among the top roles people are searching to fill.
Plus, if you have a hobby that you particularly enjoy, say maybe you are dog obsessed and keen to jump at any opportunity to spend the day straight chillin' with some doggos, post your own ad as a personal dog walker and wait for the responses to start rolling in.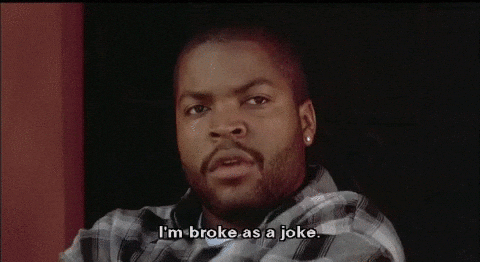 #5 Visit Your Local Second Hand Bookshop
More than likely you have some books lying around your room. Once you finish a novel, you very rarely will pick it back up again, so why not turn your stories into some sweet, sweet cash while making your library a little lighter in the process?
A lot of second hand bookshops will buy your old copies off you for a few bucks each, with any current textbooks being higher in value. Once you pick which ones you can bear to part with, give them a new home and bask in your newfound riches.
Don't worry about your bank balance mishaps this time around, because you just learnt how to quickly and relatively easily top up your emergency fund in those times of need.
---
Bradley is a writer from Newcastle who enjoys travel, Tina Fey and is a connoisseur of cheap red wine.