Wellbeing
10 Movies That Will Make You And Your Dad Cry
We're well into the 21st century. We live in a more emotionally expressive society than ever before. But still, the myth persists that men are meant to be dry-eyed fortresses of stoicism – even when it's common knowledge that crying is good for you.
But in the face of all this, there's a saving grace – movies. Sweet, manipulative movies. Whether it's in the cinema or in front of the telly, watching a film with your dad offers a kind of refuge. And if there's anything more emotional than crying, it's watching your dad cry.
So whoever said "boys don't cry" (great film) needs to reassess their humanity. Here are 10 tearjerkers that will hit you and your old man where it hurts most.
#1 Bicycle Thieves (1948)
An oldie but a goodie. Vittorio de Seca's classic is one of the realest examples of Italian neorealism. Set in post-World War II Rome, the story follows a poor man and his son searching for his stolen bicycle – and by extension – his livelihood. This film is quietly devastating, and the father's struggle to remain dignified in the eyes of his son, amidst such hardship, is almost too much to bear. Your dad might have taught you how to ride a bike, but this film will teach him how to cry.
#2 Philadelphia (1993)
What would this list be without America's dad – Tom Hanks. He's the emotional everyman, and in turn, a portal to every man's emotions. Most of his films have a place on this list, but Philadelphia is an absolute scorcher. Hanks stars as Andrew Beckett, a young lawyer who gets fired for being a gay man with AIDS. Looking to sue for wrongful termination, he turns to the only lawyer who'll represent him – homophobic Joe Miller (Denzel Washington). Their relationship starts out as strictly business, but ends up being strictly soul-crushing. Make sure the tissues are well within reach.
#3 Million Dollar Baby (2004)
More like Million Dollar Crybaby. When it comes to boxing flicks, Rocky might pack the classic emotional punch. But Million Dollar Baby will hit you and your dad where it counts. This banger from Clint Eastwood has everything a sports movie could ever want – the underdog, hopes and dreams, and Morgan Freeman in a supporting role. However, the male protagonist is flipped, and Hillary Swank takes the lead as Maggie – an amateur boxer with ambitions of going pro. Eastwood is at his frowning best as trainer Frankie, and the father-daughter-esque relationship that forms between the two will make even the most concrete-faced dads weep.
#4 Field of Dreams (1989)
On paper, Field of Dreams sounds absurd, and kind of worrying. A farmer starts hearing voices that tell him to build a baseball field. And once he does, he starts seeing ghosts. But watch it with an open heart and vulnerable eyes and you and your dad will be reduced to puddles. Sports, fathers, sons, nostalgia, magic, and most importantly – catch. What more do you want?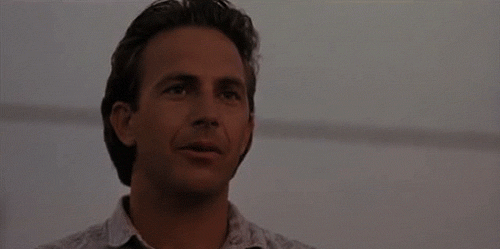 #5 Good Will Hunting (1997)
Hey Dad, it's not your fault. Look at me Dad, it's not your fault.
Good Will Hunting is about a troubled janitor/mathematical genius from Boston. Directed by Gus Van Sant, this film is packed with witty and biting moments, but the most touching scenes are between Will (Matt Damon) and his psychiatrist Sean (Robin Williams). The way they break each other down, accept each other's traumas and flaws, is moving and organic. And just to make matters worse, the whole film is soundtracked by Elliot Smith.
#6 Manchester by the Sea (2016)
Directed by Kenneth Lonergan, Manchester by the Sea feels like it's timing you – waiting to see how long you'll last before you finally break down. And trust us, break down you will. The film is about a man (Casey Affleck) who looks after his teenage nephew (Lucas Hedges) after his brother dies. But weeping just beneath the surface is a genuine, often funny, but entirely gut-wrenching exploration of grief, guilt, fatherhood, and family. An actual recipe for actual tears.
#7 Brokeback Mountain (2005)
Ang Lee's neo-western has all the hallmarks of a manly tearjerker – mountains, sheep, stillness, "fishing trips", and a healthy dose emotional denial. As Ennis Del Mar, Heath Ledger is more repressed than a shaken can of VB. Which makes Jack Twist's (Jake Gyllenhaal) extraverted idealism that much harder to handle. But it's the push and pull in their relationship, and how they try to manage it, which makes the film so beautiful, and SO sad.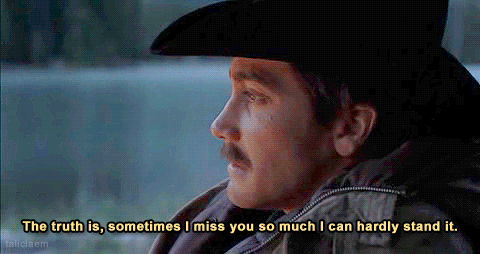 #8 Furious 7 (2015)
Whatever negative thoughts you might have about The Fast and The Furious – stop right there. The seventh instalment of this high-octane franchise combines vintage thrills with surprising emotional heft. That sense of brotherhood the films rely on is taken to a whole level in Furious 7 – especially in the last 10 minutes. Of course, this largely comes down to the real-life death of Paul Walker, who plays Brian O'Conner in the films. But still, this film is weirdly moving. And if you can't see that it's more than about cars, you might have to check yourself. So go on, take a drive.
#9 Life is Beautiful (1997)
Life certainly is beautiful when you look over at your dad and there's a silent tear running down his silent face because he's watching Roberto Bernini's tragic comedy-drama about a man employing his imagination to shield his son from the horrors of the holocaust. This film is equal parts light and devastating – fatherly protection at its most poignant.
#10 The Lion King (1994)
Go on, watch it again. You know the scene.
---
Doug Whyte is a freelance writer and copywriter. He's worked in branding agencies, digital publishing and written a bunch of articles for a bunch of publications.