Wellbeing
10 Weekday Breakfast Ideas That Will Keep You Full Until Lunch
Adelle Davis, a nutritionist of the 1960s advised "Eat breakfast like a king, lunch like a prince and dinner like a pauper."
What breakfast constitutes differs broadly from culture to culture, with natto (fermented soy bean dish) common in Japan and our own vegemite on toast being notable variations. Breakfast also differs markedly between the generations, with a liquid breakfast on the go acceptable to millennials and a completely alien concept to the tablecloth, orange juice, baked beans, toast and family time that was common to the stereotypical 1960s Australian family.
Whether it's slimy soy bean cakes, peanut butter on toast or tacos, the size of a meal is a key factor too. A round-up of existing studies into breakfast consumption suggests a very large meal can make us feel lethargic by mid morning, but a breakfast that has the ideal macronutrient composition (accounting for about 20% of overall daily calories) sets us up for eating healthy, considered choices throughout the day.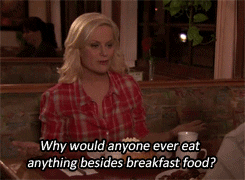 Research into ideal protein quantity for weight loss has shown that consuming breakfasts high in protein leads people to feel fuller throughout the day, while burning more fat. This is likely due to kick-starting the protein synthesis after an overnight fast. Muscle breakdown (catabolism) is at its most potent first thing in the morning. Vegans can opt for coconut yoghurt or almond milk yoghurt.
Upon waking – from 6am to 9am, our cortisol levels (stress hormones) spike. Perhaps the enormity of tasks to complete during the day causes this major stress response.
Coffee immediately on waking is therefore best avoided until the 9.30am point where the body has digested food and regulated the stress response. Interestingly, the lighting, temperature and noise that accompany our breakfast meal play a large part in mood during breakfast and for hours afterwards.
With that in mind, consider the following 10 ideally balanced breakfast choices. Whether you eat in or go out for breakfast, take the time to feel comfortable where you are and to appreciate the very act of caring for your body, your health and your life.
#1 Protein Shake – 32g supplement + nut milk + fruit/handful of nuts for satiety
Try to pick a protein powder that doesn't have an ingredients list longer than your arm. Avoid anything with sugar or its sneaky alias "maltodextrose".
Vegans can opt for hemp, pea or soy. Whey isolate is a nutrition powerhouse for non-vegans. Nuts are high in fat but the healthiest sort and they're also rich in minerals. Their high fat content makes them ideal for satiating hunger pangs for hours.
Melbourne's own The Nutty Milk Co does three flavours if almond isn't to your taste: almond, cashew and macadamia nut milk.
#2 Poke bowl – perfect combo fish/rice for protein and carbs
Raw fish first thing? Sure. Why not? It wouldn't raise an eyebrow in Tokyo and we're living in global times. An ideal lean protein combined with hunger satisfying rice (ideally brown, red or black rice for low GI) and if you opt for salmon, there's your healthy fat ratio ticked.
#3 Smashed avocado on wholegrain/rye toast
This is one breakfast order that just doesn't drop popularity points. Sure, it might be a sign of millennial over-spending, but it has wholefoods-as-medicine value through the roof.
#4 Green smoothie (avocado/spinach//apple) + boiled eggs x 2
Spinach, kale, cucumber and an apple thrown into the cold-press juicer in the morning plus half an avocado gives you healthy fats and essential vitamins. Two boiled eggs hits your protein and amino acids target for the morning.
#5 Scrambled eggs & tofu on wholegrain toast & chilli/pepper
Again, eggs are a winner in the nutritional stakes. Protein and vitamins and with a healthy shake of pepper and rock salt, they're delish. Wholegrain toast is your slow-digesting carbohydrate for satiety and chilli has mood-boosting elements to pep your step.
#6 Steak sandwich & milkshake with berries
If a carnivorous hunger requires adequate fulfilment first thing in the morning, especially post-workout, lean steak sandwiched between thick chunks of sourdough with a hearty berry milkshake (antioxidants for heart, brain, skin, hair and immunity) are on point.
#7 Coconut yoghurt, fresh fruit salad and sprinkle of almonds
Vegans aren't resigned to a life of no yoghurt. The ideal alternative to dairy is coconut yoghurt (try new local brand The Coco Tribe for organic, no artificial nasties). Even non-vegans will love the taste, texture and smoothness of coconut yoghurt.
#8 Wholegrain oats, milk, nuts and sprinkle of protein powder for flavour + watermelon & mint juice
Watermelon is low in calories, high in vitamins and ideal for satisfying a sweet tooth. The mint has belly soothing properties and oats are packed with vitamin B – essential for energy.
#9 Poached Pear and Rhubarb, chia porridge & sprinkling pistachios, almonds and pecans
Sure, it's not a whip it up in a nanosecond style meal, but spend Sunday poaching fruit and leaving chia seeds to soak overnight and you've got an easy-to-serve breakfast for the next couple of days. A jar of nut sprinkle left near the fridge will remind you to add a flourish of flavour.
#10 Omelette with spinach, mushrooms, red capsicums and asparagus & size serve avocado and black coffee
Eggs, again. They're just so nutrient rich. This time, froth them up and add some chopped veggies for flavour, colour and the antioxidant quota. Sliced avocado on the side or folded up in your omelette ticks the flavour box and black coffee is a heart starter without the bloat or heavy feel of added milk in the belly.
---
Cat Woods is a writer, editor and blogger in Melbourne. She is also a yoga, barre and pilates instructor with a passion for fitness, lipstick, '90s electroclash and yoga pants.