Wellbeing
7 Essential Travel Items You Should Pack For Every Holiday
What to pack when you head on holiday is a hotly-debated topic. Chronic over-packers are regularly berated by their light-weight companions who insist they won't need the myriad random objects they've packed. But then those who travel with less sometimes forget key items –like their passports.
Before you jump in to defend either team, know that there is a middle ground. There's a reasonable and balanced approach to packing for every holiday, and it starts with the essentials. Here are seven of them.
#1 Light Scarf
You will always find a way to use a scarf on holiday. In its most obvious form, it can be wrapped around your neck to keep out the cold. But maybe you're somewhere steamy like Bali? Easy, you just wrap it around your body as a sarong, or lay it out on the beach as a makeshift towel.
A light scarf can also be used as a bed sheet; a buffer between you and anyone else who's stayed in the bed.
Finally, use your light scarf to wrap up hair or tie it down like a headband, or for those with less hair than they'd like to admit, use it to protect your head from the sun.

#2 A foldable, reusable bag
A tote bag is ideal for food shopping, for wet towels and bathers after a day spent snorkelling, for dirty clothes or for when you've gone nuts with duty-free shopping.
A foldable reusable bag will always be more durable then their plastic counterparts and of course more environmentally sound.
Ensure it can fold down to something really compact, like this or these, otherwise you'll have a clumsy green bag eject out at you like a jack-in-the-box every time you open your suitcase.

#3 Sunglasses
Sunglasses are an absolute must on holiday, no matter what the season or location. First and foremost, they protect your eyes from the sun's glare and damaging ultraviolet (UV) rays. They're also great for hiding the fact that you necked eight fruity cocktails on the beach last night.
If you're prone to losing or breaking sunglasses, pack a cheap pair, buy one at the airport or at your final destination. Just make sure they meet Australia standards for UV protection. This means glasses will be marked with eye protection factor (EPF) 9 or 10, of more commonly, a sticker saying UV 400.


#4 Packable down jacket
No matter where you travel, this down jacket should come with you. It'll feel like a strange act if you're bound for balmy Sri Lanka or even Queensland, but if you only use it once, it's worth it.
Packing this jacket ensures you'll be warm and comfortable while flying, cosy when travelling in air-conditioned buses and prepared if an unexpectedly cold night hits.
Supposedly there's a very specific and efficient way to pack these jackets, but even if it's stuffed crudely into your bag, you can guarantee that when you unveil it you'll be the envy of all your jacket-less mates.

#5 Tea tree oil
Tea tree oil is a gosh-darn miracle oil. It's a natural antiseptic, antifungal, insect repellent and deodorant. It's cheap and abundant in Australia as the Melaleuca alternifolia plant (or narrow-leaved paperbark, for those playing at home) is native to the country.
Mix a few drops with warm water and gargle for a sore throat (or bad breath), shake a few drops into smelly, well-worn holiday shoes and use directly on skin as an insect repellent or for insect bite relief.
Just make sure the bottle you take is under 100mls if it's in your carry-on luggage on flights. If you're resigning tea tree oil to stowaway luggage then screw that lid on extra tight.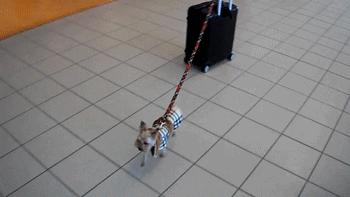 #6 A travel pillow (and pillowcase)
Travellers will be well acquainted with napping during periods of transit. Whether it's on a plane, tuk tuk or stranger's shoulder on the local bus, it's common to catch a little shut-eye as you traverse land, sea or air to your next destination.
If you've napped, even briefly, while travelling, then you'll also know its perils — the agonising stiff neck or drool puddle you often wake to. As such, a travel pillow is essential. It props your head up into a position that would have your physio beaming, and to the relief of other travellers, tends to keep you upright and off them as well.

The pillow case is, well…do you know someone who's had head lice? Yeah, that's why you pack a pillow case for any holiday. Wrap it over any questionable pillows you encounter, use it to plump up a flat pillow and when not in use it can be stuffed with dirty clothes or used to protect breakables in your suitcase.

#7 Rain jacket
Melbourne isn't the only city that befits the saying, "four seasons in one day", and accepting this will hold you in good stead when travelling.
Just like the packable down jacket, find a raincoat that can be rolled up tightly or folded into a small bag.
You'll hardly notice it's there, except for when you step out and see that your summer Prague morning looks awfully drizzly, or that Darwin has just entered the wet season. Then you'll be most pleased with yourself for packing that little rain jacket.
---
Izzy Tolhurst is a copywriter and editor. She writes about music, the arts, employment and international development. She also sings and plays an impressively amateur level of guitar in Melbourne band Go Get Mum. Find her rambling on Twitter @izzytolhurst