Money
7 Money Lessons We Learnt From Our Favourite TV Shows
In some ways, dealing with money is like dealing with a cold. It can stop you from going out and having fun and you're often wondering how and when it will eventually leave you (rent, expenses… that new pair of kicks). Money woes are a universal source of relatability, so it's no surprise our favourite characters on TV deal with them, too.
And there's a great deal to be learnt from our fictional friends' financial journeys, money lessons that go far beyond 'A Lannister always pays his debts.'
30 Rock
Money lesson #1: invest like a pro
After being awarded a $10,000 "GE Followship Award" for being an excellent "follower," Liz Lemon admits to her boss and mentor, Jack Donaghy, that she doesn't have a 401k (basically, superannuation) – or alarmingly, even a savings account.
Jack: So Liz, what are you going to do with all that money? Put it in your 401k?
Liz: Yeah, um… I gotta get one of those.
Jack: Where do you invest your money?
Liz: I've got 12 grand in checking.
Jack: Are you an immigrant?
In the US, a 401k basically equates to a pension savings plan that employees invest a portion of their paycheque into, before taxes are taken out. Liz, among other things, isn't thinking about her future, and might have a pretty old fashioned idea about how bank accounts work.
What we can learn from our night-cheese loving friend here is to always be thinking about the future, and investing in something is a pretty smart idea. At the end of the episode, Liz asks Jack to teach her to "do that thing that rich people do where they take money and turn it into more money." Just like this.
Buffy The Vampire Slayer
Money lesson #2: do what needs to be done
Buffy Summers has defeated her fair share of demons in her time, both of the natural and unnatural kind. But unfortunately for her, slayin' don't pay the rent. In the midst of a Hellmouth intervention, Buffy soon realises she's in a serious amount of debt and decides she must do what every struggling 'freelancer' must do: take a job in the service industry.
Being realistic about your money situation is often a hard reality to face. No one wants to settle for something that's beneath them, especially when you've got bigger and better plans in your foreseeable future. But shooing away your debts won't fix them – you've got to face them head on, just like Buffy.
Friends
Money lesson #3: have an emergency savings account or 'rainy day' fund
Losing your job is tough, that's no lie. When Monica loses her job at a restaurant for accepting 'gifts' from her restaurant meat supplier, she is quick to realise that living in New York isn't the easiest (or cheapest) thing to do. When she invites her father over for dinner to ask for a little help on the money front, he immediately rebuffs her, reminding her of a lesson he taught her as a child. "Where does 10 per cent of your paycheck go?" he asks. "In the bank," Monica and Chandler respond.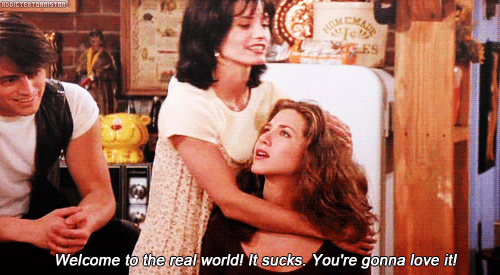 Taking a significant chunk out of your paycheque and safeguarding it for a rainy day is always the smarter option, despite how good it feels to spend it all. In fact, The Cusp finance expert Rob d'Apice recommends saving 20% of your pay, and if you're living at home you can easily put aside half.
Unforeseeable stuff always has a habit of popping up in life, so you should be squirrelling away a portion of your pay each month into a high interest savings account.
Seinfeld
Money lesson #4: cheaper isn't necessarily better
This show nailed the weird and wonderful idiosyncrasies of our collective consciousness. Seinfeld taught us many life lessons, and one such lesson is about how far someone should go to save a buck or two.
George famously decided to buy a cheap batch of wedding invitations in order to save some money, yet this perilous act ultimately lead to the death of his fiancé Susan, who had to lick the cheap adhesive on the back of the invites. Sometimes, it's worth paying a little more for quality. And if you're budgeting correctly, you should be able to afford it.
The Block
Money lesson #5: budgeting means less stress, more freedom
So apparently there is a benefit to watching car crash television like The Block – it might just shock you into sticking to your budget. After 11 seasons of Scott Cam, the Feisty Foreman and just so many tears, The Block has shown us not only the benefits of creating a budget, but sticking to it.
Many of the successful contestants are those who have stuck to their tight budgetary constraints, and not gone overboard on $4000 lighting fixtures. You'll find those who budgeted right were usually those who were significantly less stressed, and more successful in the long run.
How I Met Your Mother
Money lesson #6: only use your credit cards if you know you can pay the bill
In the same vein, How I Met Your Mother introduced a pretty pointed plot device in season three – apparently Lily Aldrin, the adorable kindergarten teacher we all know and love, is in fact a shopaholic. Designer clothes, accessories and shoes are all on Lily's hit list and accordingly, she's maxed out 15 credit cards. Lily isn't just broke, she's in a serious amount of debt, and she hasn't even told her husband.
Obviously, Lily's first step is to disclose her spending habits to her loved ones, and then she's got to go on a pretty serious money detox. But because life isn't like a sitcom (where debilitating storylines can get cleaned up by the end of the episode) we must take heed of the situation and realise that putting a budget on your spending, saving and investing will give the best outcome for all.
Broad City
Money lesson #7: there's no shame in being frugal
If we've learnt anything from Abbi and Ilana over three seasons of comic glory, it's that hustling in the Big Apple takes a lot of guts. Living within your means takes dedication and effort.
Whether it's taking advantage of coupons; leasing your apartment out for the night on an Airbnb-like service to make a couple of bucks; offering your "domestic" services on Craigslist for Lil Wayne tickets; sneaking in snacks and cereal into a movie theatre; charging entry to a house party to pay for some recent (unsuccessful) pest control; or even, in a pickle, creating a tampon out of kippah, hair elastics and some pita bread – Abbi and Ilana don't sweat the small stuff.
They take everything in their stride with a positive attitude and know how to celebrate life's tiny victories, too. Pretty much the best way to live, tbh.
---
Rebecca Russo is a freelance writer, editor, community radio dabbler, occasional hiker and celebrity autobiography enthusiast. She has written for online publications including Junkee, AWOL, Fashion Journal and Tone Deaf. Find her online here.