Career
7 TV Characters You'd Never Want As Colleagues
Taking credit for other people's work, always running late, raiding the staff fridge, gossiping. Yes, the list of unlikeable qualities that colleagues can possess runs long.
Many of us have worked with people like this, marvelling daily at their ability to hide incompetence and even more amazingly, keep their jobs. These traits also exist in characters on television, driving us crazy in their fictional worlds mere feet away from our couch.
We've compiled seven TV characters we're sure you'd never want as colleagues, and thankfully, you never have to work with.
#1 George Constanza – Seinfeld
Seinfeld's most insecure character has held some pretty impressive roles. Assistant to the Travel Secretary of the New York Yankees, hand model and script writer for NBC sitcom Jerry might have an unknowing reader thinking this character is a competent collaborator.
However, his inclination to neurosis, habitual lying and irrationality mean most of these jobs end catastrophically. Instead of simply resigning from the Yankees, for example, he pulls a series of hard to watch stunts in an attempt to get fired. He bluffs his way through working on the infamous Penske files, a project George knows literally nothing about, and, though never played out on screen, claims to have been fired from Dairy Queen for cooling his feet with soft serve.
As the self-proclaimed "Lord of the Idiots", we say that George Constanza is hilarious, yes. A reliable, assiduous colleague? Probably not.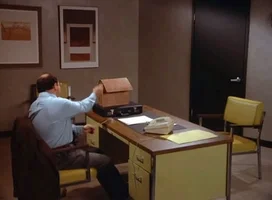 #2 Samantha Jones – Sex in the City

With a passion for sexual adventure and no interest in declining an advance, working with Samantha Jones would not only be intimidating, it would probably constitute workplace harassment.
The Sex in the City character is known for some of the boldest lines (and moves) in the series, but the devotion to all things sexual would make colleagues squirm, and not it a good way.
Even Kim Cattrall, the actor who played the borderline nymphomaniac for seven years, found Samantha Jones hard to work with, claiming that playing the character nearly destroyed her own sex life.
If you worked with Samantha Jones, we suspect you'd spend a lot of time with the HR team, too.
#3 Homer Simpson – The Simpsons

He's the loveable, perpetually-failing protagonist for one of the most renowned and adored cartoons of all time. But he's also the guy that leaves regulation of the city's nuclear power plant temperature to a plastic dipping bird, spends more hours sleeping than he does awake and is often found scoffing the staff supply of donuts.
As a colleague, this pervading laziness, incompetence, and general lack of self-awareness would make you want to scream.
And scream one character does. Poor Frank Grimes meets an unfortunate end when in a rage-fuelled fit he imitates all of Homer's workplace idiocy and shortcomings. RIP Grimey.
Love your favourite yellow family member from afar, and avoid him in the office, or at the plant.

#4 Ilana Wexler – Broad City
Broad City's ultimate boss lady, "yas queen!" queen and feminist icon might perfectly capture what it is to be young in New York, but if you found yourself desk buddies with her, we suspect your love might dwindle.
Working in sales for coupon company Deals Deals Deals, Ilana exhibited many qualities that made her eligible for this list. Sleeping at work, always detailing her ablutions, inappropriate work attire and hiring "an extremely diverse ethnic smorgasbord of unpaid interns" constitute just a few that make her a less-than-ideal work pal.
Ilana's inability to take direction drives her boss increasingly close to breaking point, but after she embroils the company in a tweet-related PR disaster (see season three, episode three for specifics), he has the great satisfaction of letting her go.
Our advice? Invest your time adoring Ilana's other, non-work experiences and skills.
#5 Jenna Maroney – 30 Rock

The vain and self-absorbed TGS cast member is possessed by a need for approval, promotion and praise, and she follows it blindly.
Perilous to manage and frequently hysterical, Jenna makes it her prerogative to let nothing get in the way of a potential spotlight. If you worked with her (our deepest sympathies to you, Liz Lemon), expect to be bossed around, ignored, entrapped, lied to and possibly threatened.
You'd never shine in a role alongside Jenna Maroney – she'd make sure of it – so best to keep her in the fictional realm and on stage with her equally demanding co-star, Tracy Jordan.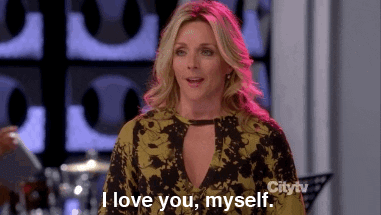 #6 David Brent – The Office

Introducing the poster boy for bad management, David Brent. The man hath no shame! He's out of touch, humiliating, awkward, sleazy, and an employer of every clichéd and failed staff engagement strategy out there.
If you think there's somewhere David Brent won't go; or something he won't say; that maybe he's capable of biting his tongue for decency's sake – think again. The gaffe-prone manager is a walking, politically incorrect disaster, and the whole office knows it.
If there were a prize for the worst boss ever, consider David Brent a front runner.
#7 Cersei Lannister – Game of Thrones

Ruthless, scheming and evil aren't descriptors usually rolled out as an assurance you'll get along with your colleague, or, you know, meet your sales KPIs together. But Cersei Lannister has these qualities in spades, and you should be very afraid.
Add to this a perpetual paranoia and fear of conspiracy, and you're dealing with a truly terrifying woman. Employer of narcissism and nepotism over all else, in her desperation for children, Cersei secured offspring by cuddling up with her own twin brother. Gross.
If you need more evidence Cersei should be left entirely on screen, the Westeros-ruling character recently topped a poll asking, rather bluntly, "Who would you kill off in season 7?"
We'd rather let winter come with all its promised evils than face a Monday meeting with Cersei.
---
Izzy Tolhurst is a copywriter and editor. She writes about music, the arts, employment and international development. She also sings and plays an impressively amateur level of guitar in Melbourne band Go Get Mum. Find her rambling on Twitter @izzytolhurst