Wellbeing
8 Lunchtime Exercise Ideas (That Won't Leave You A Sweaty Wreck)
After being cocooned in an office all morning, or perhaps even driving from one client meeting to another, there's two things that will rejuvenate and reward your body and mind: group exercise, and eating a hearty lunch.
Many workplaces are recognising that a vending machine and a Christmas Bonus aren't incentive enough to maintain loyal employees, nor a true investment in their employees' quality of health and lifestyle. Offering free gym membership has become more common, but allowing the time to use that membership is where there may be some negotiating required.
Research by Comcare found that workplaces that invest in wellbeing programs do so with the intention of improving work performance, reducing the costs of absenteeism due to mental and physical illness, improving overall workplace culture and to enhance the reputation of their business.
The research showed that 'multi-component interventions' (by which they mean nutrition, exercise, mental health and lifestyle support such as flexible hours or subsidised childcare) increase physical activity, promote healthy eating and negate disorders common to those who sit for long periods, such as lower back pain, RSI and chronic neck pain.
Next time you want to attend pilates with the team from sales, put the case to your employer for investing in your time and health through encouraging midday workouts.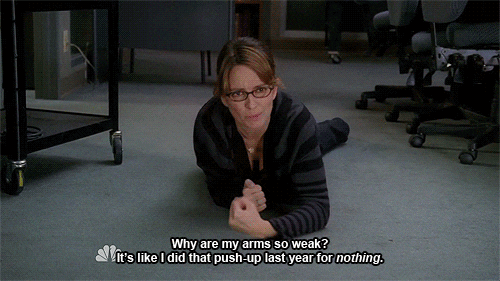 Perhaps you could send them these stats: health promotion programs by worksites –
decrease sick leave absenteeism 25.3%
decrease workers compensation costs 40.7%
decrease disability management costs 24.2%
save the workplace $5.81 for every $1 invested in employee health and wellbeing
Stash your yoga pants and a water bottle at the desk, or in the boot of your car for preparation. Remember, eat lunch after your workout.
#1 Pilates
"My core strength is perfect, no further work is required," said nobody, ever. There are numerous benefits to hitting a pilates class at anytime, but especially during a lunchbreak.
With a focus on technique, alignment, posture and engaging the key stabilising muscles to ensure safe, functional movement, pilates at a lunchtime reminder to sit, stand, walk and work with a long spine and to avoid prolonged sitting and slumping.
#2 Vinyasa yoga
Om, indeed. Especially on a Monday morning, when meetings and an inbox on the version of implosion has you on the verge of curling into a foetal position under the desk, yoga is the remedy.
Taking an hour to focus on being fully present, moving harmoniously with syncopated breath and posture is a reminder that we are more than our jobs and our obligations, we are all just breath, heartbeat, energy.
Stay for the savasana – don't make the teacher grumpy.
#3 Yin yoga
This isn't a rest, despite how yin yoga might appear to an onlooker. Yin invites participants to settle into poses that stretch deep into the fascial tissue that wraps around and connects muscle.
The goal is to release long-held tensions built up through repetitive movements. The challenge for most A-Type personalities is not to fidget, to want to run in circles and to just submit to the work.
#4 Bodybalance
A Les Mills class that combines tai chi, pilates and yoga to enable a mind-body workout that can be tailored to a 45 minute class in some locations. Most gyms offer BodyBalance or CX Worx as lunchtime options.
CX Worx is a 30 minute class that combines isometric, compound and dynamic moves to strengthen abdominals, glutes, back, hips and legs in a short, focused session that will allow you to get your workout done in addition to waiting in the line at Sushi Train for another 30 minutes.
#5 Reformer pilates
Mat pilates is challenging and variable enough if that's your bag, but reformer pilates allows for strong, challenging and energising sessions with a highly skilled instructor. Using a machine that is structured with pulleys and levers to enable varying levels of resistance, participants have to fully focus on their movement and posture. There isn't any room to fret about the 3pm staff meeting. You'll be too busy counting those last 4 seconds down then moving straight onto the next thing.
#6 Bodypump express
Strength training and resistance work for muscle building and firing up the metabolism for the next 24 hours all in 45 minutes? The Bodypump express format ticks all the boxes for busy workers who want the fun element of working in a group as well as the ability to dictate how challenging they want to make their lunchtime workout.
Using a barbell and free weights, the class spends approximately 5 minutes per muscle group, working to fatigue, with choreographed music and moves.
#7 Ballet
Strength, grace, power, discipline. All the qualities you want to channel in your job are the same that you build in a ballet class.
Just as pilates focuses on posture, technique, balance and flexibility, ballet does too. It has the additional benefit of a cultural heritage and traditional richness that allows you to feel part of another world – midday escapism is highly recommended for the busy worker.
#8 Aerial yoga
Bringing a new meaning to "hanging out", aerial yoga is practiced in hammocks that hang from the roof. This is yoga in an anti-gravity format. Challenging core strength while offering a low-impact workout is ideal for those in rehabilitation or seeking a twist on their existing yoga practice.
---
Cat Woods is a writer, editor and blogger in Melbourne. She is also a yoga, barre and pilates instructor with a passion for fitness, lipstick, '90s electroclash and yoga pants.