Wellbeing
Why Do We Care So Much About Getting Kissed On New Year's?
They say how you start the New Year is how you'll spend the rest of it. But what is it about being kissed before midnight, on what is essentially just any other day, that has become such an integral part of how we ring in another calendar year?
From Billy Crystal and Meg Ryan locking lips at midnight in When Harry Met Sally, to Stanford and Anthony smooching out of New Year's-induced desperation in Sex and the City, a kiss to greet January first seems to play a part in our hopes for a successful New Year's Eve celebration.
But why are we so intent on welcoming every New Year this way? Why isn't it good enough to clink glasses with your nearest and dearest, rather than sharing saliva with someone – whether a partner, a friend or a complete stranger?
The fact is, this tradition has been dated back to the eight-century BC, when the ancient Romans threw Bacchanalian parties where they tried to pack in as much debauchery as possible – including kissing, obviously.
According to English and German folklore, the first person you come into contact with at the New Year portends the tone for the rest of your year (we clearly all came into contact with some bad ju-ju at the beginning of 2016).
So, if you're in a relationship and if you don't lock lips at midnight, something not-so-great may lay in wait for you and yours over the next 365 days. And if you're single the superstition goes, not getting a smooch will lead to a year of loneliness… although kissing a complete stranger you may never see again doesn't exactly ring of good fortune either.
The weird thing is this: as a culture, we tend to ignore other superstitions. Walking under ladders? No biggie. Stepping on cracked tiles? We don't really expect to break our mother's back. So why is this particular one such a sticking point for so many of us? We could blame the alcohol – but plenty of revellers start wishing for a New Year's kiss long before the fourth flute of Champagne.
Perhaps there's something appealing about knowing that you're locking lips at exactly the same time as everyone else in your time zone. A show of solidarity, a rare moment of union when so few make themselves known in a society where we're constantly at odds with one another.
Popular culture puts emphasise on the importance of finding the right person to kiss at midnight. The person you've been pining for all year, the stranger in the corner who keeps making eyes at you – there doesn't seem to have ever been a TV show or movie about January 31st that hasn't made mention of finding the right person before the ball drops or the fireworks start to crack.
Heck, New Year's Eve was basically predicated on being near the right person as the clock struck 12 (except for pregnant Jessica Biel, who had obviously successfully navigated kissing at least once in her life).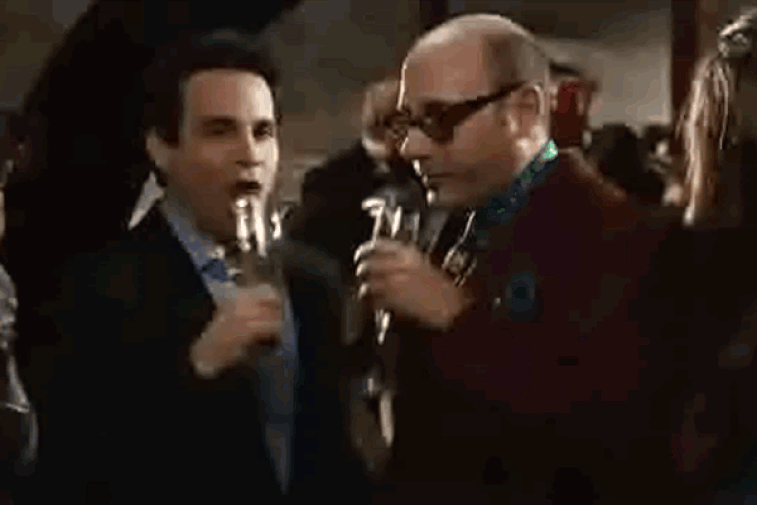 But when it comes down to it, it seems kind of crazy to get hung up on swapping fluids with someone else at what is actually just an arbitrary time and day. Most New Year's Eve parties end up being a letdown (seriously, try and count how many have lived up to the hype), and similarly most New Year's kisses aren't a whole lot better than a pash on any other day.
You never hear divorced couples mention to their friends how they are pretty sure the reason their relationship didn't work out is because they didn't manage to fit in a New Year's kiss. Likewise, your single mates didn't stay single this year because they didn't find someone – anyone – to kiss at the stroke of midnight.
If you're upset because you weren't able to find someone to pash at New Year's, chances are there are other things happening in your life that are a tad more important than a kiss. Kissing is very nice; we can all agree on that. But having a kiss or not having a kiss matters nil in the grand scheme of things. Instead of spending what should be a fun evening with your pals searching for someone to kiss, hit the dance floor and make the most of the fact that there's a public holiday the next day and you can sleep in. Whether you're single or in a relationship, ring in 2017 simply by having fun – kiss or no kiss.
---
Che-Marie Trigg is a freelance writer and full-time subeditor. Her work has appeared in Virgin Australia Voyeur, Collective Hub and GoPlaces with Toyota magazines among others, as well as on websites like Broadsheet and Junkee. Follow her on Instagram @chemariet