Career
Here's What It's Like To Be Paid To Eat Chocolate
Working with chocolate all day, coming up with decadent creations and actually getting paid to do 'quality control' on the sweet stuff (read: just eat it whenever you want). It seems too good to be true. So we chatted to a chocolatier, who gave us the inside scoop. Spoiler: It. Sounds. Awesome.
When you were a kid, what was your absolute dream job? As in, if we take away those ridiculous gigs like rockstar, model or general-famous-person-who-gets-paid-to-be-attractive, what would you want to spend your days doing?
Chocolate taster would surely be close to the top of the list, right?
Connie Yuen is the Head Chocolatier at the Kit Kat Chocolatory in Melbourne, and while the work is slightly more involved than just taste-testing, "playing with chocolate", as she puts it, is pretty much the job description – and you better believe that involves eating plenty of it.
The Cusp spoke to Connie about this particularly sweet gig, and found out that – aside from the lack of Oompa-Loompas – it's every bit as amazing as Roald Dahl had us believe.
How do you get to become a head chocolatier?
This is Connie's second career, having previously worked as an office manager.
"I was working in admin for about eight years, but I didn't love it, so I quit my job," Connie says.
"I thought, 'I love food, so why don't I work with it?'"
But it was more than just sack-off-the-old-job and walk into the new one, with training a necessary step towards becoming a chocolatier.
"I studied a Certificate IV in Patisserie at William Angliss," Connie says, before explaining that all the chocolatiers working in her kitchen either studied or are currently studying a certificate in patisserie.
After completing the one-and-a-half year course, Connie looked for somewhere to apply the new skills, and guess who happened to be recruiting:
"Nestle were advertising for the a pop-up store for Kit Kat and I got the head chocolatier position.
"Then when the Chocolatory was being made they invited me back to run the kitchen here as well."
As for what someone working in the industry would be looking at earning Connie reckons, depending on the company, a chocolatier would be looking at around $55,000 or more per year.
But, of course, there are some particularly sweet perks.
What's a standard day like (and how much chocolate gets eaten)?
"I do eat a fair bit of chocolate, unfortunately now I have to eat chocolate for quality control, so I always have my thinking cap on while eating it – I don't eat it because I want to, I eat it because I have to," Connie explains.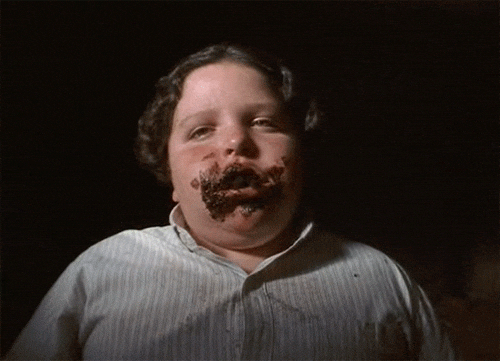 Although, she does go on to say that the sweet stuff has become a staple for breakfast, generally cracking her first bar around 8am when she gets to work.
"It's an early start – like all hospitality jobs, we have to have everything prepared before we open shop, to be ready for breakfast.
"So – it's not that early – we start 7 or 8 am, check the ingredients and temperatures are correct, fulfil any orders that came in overnight and prepare for the day ahead."
How does a new chocolate creation come about?
As she tells The Cusp, Connie's job description is basically "playing with Kit Kats all day", although that doesn't quite mean she's got carte blanche to make whatever she wants, whenever she wants.
"We are making Kit Kats, so we have to work within that – and what's a Kit Kat without a wafer? So wafers are part of our creations.
"But we do get to create based around that, playing around with both the flavours and the packaging."
For a Christmas pop up she helped devise special flavours such as spiced Christmas pudding; butterscotch fudge, pretzel and pecan; and cranberry, pistachio and coconut macaroon.
(You should probably wipe that drool away now.)
"Our Kit Kats have eight fingers, so they're much bigger than you see in the supermarkets. We do get to be creative in the kitchen, even working within the Kit Kat limit."
Furthermore, the Chocolatory has an open kitchen, meaning guests can see their bars being made in front of them.
"It's interesting, because people see into the kitchen, and ask 'oh what's that ingredient, what's that for?'"
"It's cool to get the live feedback."
Nothing's perfect, right?
If you're waiting to hear that Connie actually hates her job and working with chocolate sucks, you're about to be bitterly disappointed, because the low point of a day in this job still sounds amazing:
"Probably the worst part of my job is getting chocolate all over myself and my uniform, and trying to get it out – it's a real pain!"
Being covered in chocolate is the worst part. Sure, no one likes doing laundry, but it sure as hell beats being covered in… well, pretty much any other substance on the planet.
Although, having been given pause, Connie does manage to come up with another drawback – "the weight gain!"
As for the best part of working with chocolate all day, Connie enjoys the imagination involved, and of course the positive feedback:
"I love being able to be creative with our products and seeing the guests enjoy eating them, then posting them on social media.
"I get a buzz getting home and seeing them posted on Instagram and social media – I really like that."
Can you believe this is your job?
So, what would ten-year-old Connie think if we could go back in time and tell her what she'd be doing for a crust?
"Absolutely, absolutely, I would never have thought I would be doing what I would do," Connie says.
Although, it's probably not for the reason you'd have thought:
"As a kid, I wanted to be a vet, because I loved animals, but I didn't like chocolate, so I guess I wouldn't have believed that I'd be here."
Regardless, 2017 Connie seems to revel in being Head Chocolatier at the Kit Kat Chocolatory:
"When I tell people what my job is, the general reaction is, 'That's what you do? No way!'
"It is as good as it sounds."
---
Joe Frost is a writer, editor, producer, and four-fingered cautionary tale to children. You can catch him each week on Coming Attractions or on Twitter, where he's tweeted at least twice.