Money
Can You Make Decent Money As A TV And Movie Extra?
I'm by no means what you would call a lazy person. I'm out of bed by 6am most mornings (8am on the weekend, if I'm feeling crazy), never go a week without doing some kind of exercise and can't remember the last time I had a Netflix marathon. That said, I like the idea of making easy money just as much as the next person.
So, when a friend mentioned he was making a decent living doing film and TV extra work and that it was the easiest job in the world, I was all ears. Otherwise known as a background artist, an extra is someone who appears in the background of a TV show, ad or film. Essentially, their job is to help make the scene resemble real life as much as possible.
As a freelance writer who works from home, I'd been looking for a way to supplement my income without having to commit to anything long-term. I had my friend refer me to his agency so I could give TV extra work a go. Here's what I discovered:
There are some set-up costs involved
While my agency only takes people on a referral basis most advertise, so setting up a meeting is as simple as emailing or calling the office. More often than not they'll ask you to send a photo of yourself, then ask you to come into their office to meet you in person.
It's worth being aware that most agencies will charge you to have your headshots taken by their preferred photographer. This will normally set you back around $300, but I made this back within my first week of joining the agency. Most agencies will allow you to have your photos retaken if you change your look, with no extra charge.
Anyone can do it
In my four months of being an extra, I've encountered people of all ages, backgrounds, shapes and sizes. They come from diverse career backgrounds, from architects and entrepreneurs to models and students. I've even met some former Olympians. I've seen all sorts of people make money as an extra, so why not you?
While the background artist world is very inclusive, it is worth nothing that some jobs do require a specific look. For example, for a drama set in the 1950s, you'd need to have natural, un-dyed hair, whereas a scene in an edgy bar may call for piercings and tattoos.
You need to be flexible
Most filming takes place during the week, so you're going to be able to take on a lot more work if you're not tied down to a 9-to-5 office job. It also helps if you have a car, as there are often early call times in far-flung locations. As I don't drive, an oversight on my part led to me staying overnight at the luxe Hydro Majestic Hotel so I could make an early call time for a film in the Blue Mountains the next morning – not exactly what you'd call "thrifty".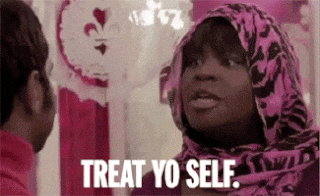 To do well as an extra, you also need to be punctual, patient and good at following direction. It's important not to be too extra as an extra, too. That is, your job as an extra is to do what you're told and cause as little fuss as possible, so any diva-like behaviour will probably get you blacklisted.
You can make money as an extra – good money
Let me preface this by saying that the rate of pay for background artists isn't all that amazing. It's around $25 per hour for TV shows and films and $35 per hour for ads. However, for what it is – essentially walking from point A to B over and over again or pretending to have a conversation with someone – it's pretty decent.
Plus, there tends to be a lot of downtime in your shifts, so if there's a way you can make money while on set, you're killing it. For example, there will often be an hour or so between each scene where I can smash out an article, while still getting paid for the extra work. As a freelancer, it's also a nice bonus that the agency puts my super and tax aside for me.
Another way extra work can be lucrative is if you get a featured role in a TV show, film or ad. This essentially just means that your face is visible, rather than the usual blur in the background. When this happens, your wage can go up to the thousands. Often, this is a matter of being in the right place at the right time, or having the right look.
All in all, being an extra isn't likely to make you a millionaire overnight – but it's a fun and easy way to give your bank balance an extra boost, especially if you have other work you can do in-between takes. You can make money as an extra if you go about it the right way.
---
Emma Norris is a Sydney-based freelance writer and the owner of copywriting business, contentinthecity.com and lifestyle blog, agirlinprogress.com. When she's not playing with words, she's either doing pushups or stuffing her face with pizza. You can follow her on Instagram @emmajanenorris.
Main image: Extras / BBC & HBO