Money
How To Move To New York On A Budget
According to every song, movie and TV show ever, New York City is a place where dreams come true and anything can happen. With over eight million people crammed into one little island and its surroundings, the city is full of energy and possibilities. But in reality, living in New York is also competitive, relentless and damn expensive.
As the saying goes, if you can make it in New York, you can make it anywhere. So here's how to make sure you make it.
#1 Figure out a preliminary budget
In order to move to any new city or country, you will need to draw down on your savings while you get established. This is especially true for NYC. You will need to figure out how long you can survive without an income, and have travel insurance and a backup fund for emergencies.
Your main ongoing expenses are going to be housing, food, transport and leisure. Do some research and work out a weekly budget for each of these, then check how far you can realistically stretch your savings.
#2 Make your visa work
If you're going to make it in the big smoke, you will need a working visa of some kind to get those dollar bills. There are multiple options, the easiest being to find a job at a company that will sponsor your visa.
However, if you have to go it alone, it is possible to apply for a temporary non-immigrant work visa though other channels. All the info is here.
There is also the J visa, or exchange visitor program, which covers interns, teachers, camp counsellors, au pairs and summer work visitors through designated programs. Find out more here.
The application fee for all temporary work visas is $190 plus the issuance fee, which varies.
#3 Snag that dream job
Once you've successfully decided which visa is right for you, the next step is to hit up your connections and get online to start searching for jobs. Start with LinkedIn, Indeed and Simply Hired. Glassdoor is also excellent for finding jobs, reviews and salaries.
If your industry is hard to crack into, consider retail or hospitality. You may even have to get creative and supplement your income with a side hustle.
#4 Find an apartment
While housing prices in Sydney are some of the highest in the world, renting in New York City is a documented nightmare. Finding roommates can be a challenge, so put out a call on social media for potential contacts and check out Symbi, Diggz and Spare Room.
Another option is to find a room on Airbnb for a couple of weeks to begin with, which may even lead to a more permanent arrangement. Some areas of Brooklyn are still affordable, and Queens and the Bronx are on the up and up.
#5 Learn to love the subway
Having a car is an unnecessary expense in a city this hectic, so your MetroCard is going to be your best friend. The fact that public transport is reasonably efficient in New York means living close to the centre of the city is not essential, but living near a subway station is a definite plus.
A subway ride costs US$2.75 each way, and bus connections are also convenient and reliable.
#6 Eat well, eat cheap
Food is an expense that can very easily go over budget if you're not careful. Set yourself some ground rules: Eating out is a luxury, unless it is from a street cart, in which case eat as many falafels as your heart desires. Your life is going to be busy (you're living in New York, remember?) so making sure to prepare meals and snacks for the next week ahead can save you lots of cash.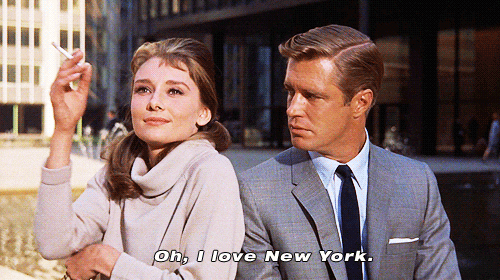 Treat yourself to little things like a bagel or doughnut while out and about, and try to eat your main meals at home. Socalising over drinks or coffee rather than meals can make a huge difference.
#7 Explore the city that never sleeps for free (almost)
Explore your neighbourhood on foot, take the subway to the boardwalk at Coney Island, visit the Museum of Modern Art on Friday evening after 4pm when entry is free, or go to a free comedy show. The periodicals room at the New York Public Library is open to the public and is a great spot for a rainy afternoon.
If pop culture landmarks are more your thing, you can marvel at the birthplace of hip hop, visit the apartment from 'Friends', sit on the steps of the Met like 'Gossip Girl' or get your next big idea at Carrie Bradshaw's stoop, for a start. There's also a little thing called Central Park to explore, as well as Prospect Park in Brooklyn. Keep an eye out for free and fun activities on Time Out.
Have fun, new New Yorkers!
---
Molly McLaughlin is a freelance writer currently based in Mexico City. She tweets about feminism and sandwiches at @mollysgmcl.