Career
How To Pimp Your LinkedIn Profile
So you've taken the next step in your adult-life and created a LinkedIn profile? Props to you for making it LinkedIn-official that you've entered the capitalist whirlwind also known as the modern workforce.
You might've nailed your share of interviews but now the real struggle begins – making a professional profile that will earn you respect among your colleagues.
Be sure to put aside some time to check some of these tips off your list. And don't worry, we'll skip the basics like proofreading and choosing an appropriate photo and get down to the real biz.
Here's how to make a Forbes-worthy online presence by pimping your LinkedIn profile like a pro.
Avoid buzzwords and make it personal
Backspace those buzzwords before we throw things at you. Phrases like 'passionate', 'driven', 'social media native' and 'ahead of the curve'. We're talking the same-old tired dialogue used by 90% of users. Basically any words that make you want to tear up someone's resume.
Why are we hating on buzzwords? Because they make you sound basic, unoriginal and insincere.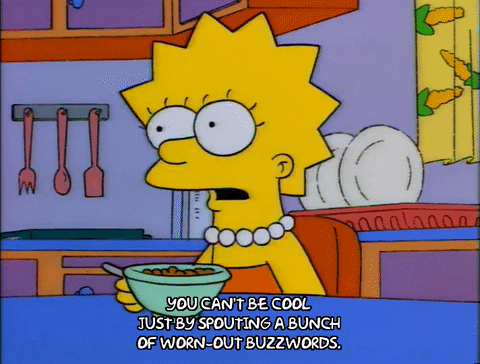 Instead try telling your career story. Tell your followers why you love your job and follow up by mentioning any performance targets that you achieved while in your role.
The general rule is to keep things short and snappy. Be Spartan with your profile as your bio will be far more impactful if you write it in as few words as possible.
Ask people for recommendations and endorsements
Make like Elle Woods and do a game of snaps by asking your colleagues and managers to write something nice to put on your profile. Trust us, anyone can brag about their accomplishments but having a few references on your LinkedIn account will speak volumes about your talents and character.
Keep in mind that most of the time, people won't write a recommendation without being prompted. Don't fret though, it's not because you don't deserve one. It just means that it's up to you to use the 'ask for a recommendation' feature on LinkedIn to request some writing on why you should be hired ASAP.
Start building up your connections now
Just when you thought that the internet would mean less networking stress, social media came along. I hate to say it, but sites like LinkedIn mean that you can't avoid networking online.
Just like making chat by the office water cooler, LinkedIn is all about making connections. And accounts that have a sizeable number of connections boast authority and influence.
Start collecting LinkedIn connections by seeking out colleagues, managers and even people you've met at conferences and on the job. That way you'll be able to not only look the part, but potentially be offered more job opportunities. Score!
Link to a website with your work examples
LinkedIn can double as an online portfolio. With links to your work your profile will look a lot cleaner while also giving potential future employers concrete examples of your work.
So make sure you add your website and work examples to make your profile look legit.
But don't just use the site as an online resume
Hold-up, don't just use the site as a web drop for your employment history and achievements.
The site can be used as your one-stop-shop for all things career growth. So treat it right by using it to send messages, by asking professionals in your field for advice, finding contact details and learning through articles and posts about professional development.
Other than simply adding someone to your LinkedIn network, another way to connect is through LinkedIn groups. The groups are often interest and career specific meaning you can exchange ideas, advice and contacts with like-minded individuals.
With these groups you'll be quite the savvy user and gain access to expertise that otherwise might have been out of reach. Get on it!
TAKE NOTE OF THE PRIVACY SETTINGS
This one's in caps because it's probably the single most important thing you'll learn about the site.
We all love to stalk people behind the protection of the computer screen. But if you'd like to be able to continue stalk your work friends and strangers on the internet while remaining anonymous, look no further.
Those of us who aren't internet literate need to be told this: CHANGE YOUR PRIVACY SETTINGS! Otherwise, your work mates will know you spent the weekend lingering on their profile and wondering how they got that promotion.
Here's how to change your settings:
#1 Click 'profile viewing options' under 'privacy' in the settings section.
#2 Next select 'private mode'.
Voila, you can use the site without any future anxiety. You're welcome.
Hit me up on LinkedIn some time.
---
Eden Gillespie is a freelance journalist who's learning Spanish and will be based in Madrid starting 2017. Siesta, fiesta, repeat.