Career
Sunday Night Habits To Help You Pretend To Have It Together
For many of us, Sunday night brings regret and anxiety. After a weekend of lazing around in bed, enjoying a twenty-minute-long coffee while scrolling through our social media feeds, the pre-Monday morning blues can hit even the most career-driven of us. To avoid the bleary-eyed Monday morning scramble we're all used to, we've collected our most effective Sunday evening activities for the purpose of streamlining your working week.
#1 Plan your outfits
Most twenty-somethings' wardrobes swing between 'corporate appropriate' and 'back-up dancer for Beyonce's Run the World tour'. A helpful hint to avoid spending a good five minutes digging through a pile of sequined booty shorts to find your serious Tuesday trousers, is to place your 'work-appropriate' clothing in one section of your closet for ease of access. This has helped me to form a work uniform of shirt dresses, blazers and roll necks that can be paired together. I then wear these until the blessed day that is Casual Friday, when I know I'm allowed to rock up in a full vintage Adidas tracksuit and not even the CEO can bat an eye.
#2 Prep your lunches
Meal prepping is one of the best things lifestyle organisation bloggers have ever brought to us mere mortals. If you're the kind of person who likes variety and using cooking to wind down, it might be more realistic to meal prep a few things as opposed to every single meal. Healthy curries and salads for work lunches are a great start. Like exercise, meal prepping can be done in moderation!
#3 'Un-F*ck' your environment
Cult website UFYH (Un-F*ck your Habitat) is a great place to start. Whether you live alone, with a partner, or in a share house we are all capable of being extremely gross and letting our environment deteriorate over time, or at least until we take a full week of annual leave. Spend five minutes on a Sunday, vacuuming, mopping, sorting out your wardrobe, etc – things you don't have time for during the week but ultimately make your life easier. It can really help lift your mood, and make your home more inviting. To others, but more importantly to yourself.
#4 Go over your weekly plan
Chances are you forgot to do something important this weekend. Check through your planner to see what it was: a deadline, an invoice, a bill that needed paying, or tapping out another 500 words of that novel you're writing. Checking over your planner can help you re-assess your goals and remind yourself of the steps needed to achieve them.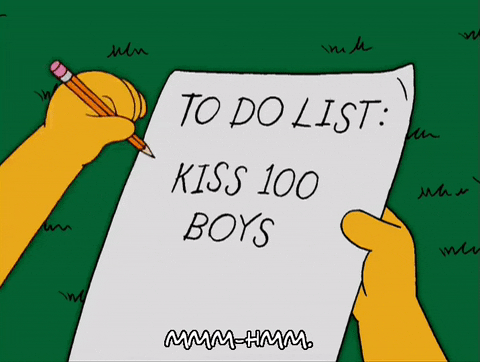 #5 Get outdoors
Even if it's raining. Umbrellas were not just invented to accidentally pour water over the freshly washed hair of another commuter at 8.30am on the tram on a Monday morning. Go for a long walk around your neighbourhood, or check out a local community garden. Keep your headphones in your pocket and allow yourself some meditative silence punctuated only by birds chirping and angry drivers honking. Or better yet, find a way to get out of the city, if only for the afternoon, and get some real silence.
#6 Do something creative
Creative efforts are incredibly effective for relieving symptoms of mild to severe anxiety or stress. Pursuing a creative project is not only a great meditation and distraction from work, but practising a creative hobby every week or month can help to mitigate possibilities of burn out. Whether you're throwing paint at a canvas, coding, or operating a blacksmithing kiln in your backyard, concentrating on something you do purely for the flow and enjoyment will help maintain the mental health you need to excel in your daily life.
#7 Start your evening routine early
Stretch, eat a healthy meal, have a long shower and go to bed early if you can. It's hard to find the time, but it's healthy if you can wrangle it. Drink a herbal tea and turn your devices off early. Come morning, you'll have woken up with more ease, and an outfit and breakfast ready to help you conquer the week ahead.
---
Ellen Wardle is a Melbourne-based brand journalist. She instagrams prolifically over at @ellenbourne and spends most of her days terrified about the future of the housing market.