Career
The 10 Things I Learned From Working 30 Jobs In 10 Years
Millennials have earned a stellar reputation for being the job-hopping generation. Some make the move because it's an opportunity to earn more money, take on greater responsibility and to up-skill. For others, it's a chance to reduce their work hours, achieve a better work/life balance or to join a company that's closer to home or a better cultural fit.
Then there's the group who are ditching the desk and suit for a laptop at the beach, confidently riding the wave of the freelance economy or launching the next tech start up from a wireless hotspot near you.
Julia Gilchrist's story is a bit different though. Julia was born profoundly deaf and is one of the one in six Australians affected by hearing loss. Julia wears two cochlear implants and can speak and communicate well, but says the lack of understanding and entrenched stigma around hearing loss in the workplace was the catalyst for her applying for more than 200 jobs and working 30 jobs over the last 10 years.
Now employed by HCF, Australia's largest not-for-profit health fund, Julia says she has finally found an employer that offers her the support and flexibility she needs to be successful in her role, as well as ongoing career prospects.
The pursuit of employment, and happiness in the workplace, certainly comes with its own set of selection criteria. Having already done the research, Julia shares with us the ten things she's learned from a decade of short-term contracts and temp roles. So whether you're mid-job hunt or post-job hop, here are the hot tips you need to know.
#1 Find a good mentor
A good mentor can be invaluable when you're looking for work or wanting to further your career. The best mentors will help you learn and grow by sharing their knowledge and wisdom with you.
They can help you set aspirational and achievable career goals and develop the best practical steps you need to take to achieve them. You might find a mentor at your existing workplace, within your family, a uni mate or an older family friend.
#2 Have your CV on hand
Being able to readily access and update your CV, as well as previous applications and pre-filled selection criteria, will mean you're never doubling up on work and you can save yourself a bunch of time and energy.
With previous files on hand you can continue to build on and improve your application, sending your CV closer to the top of the candidate list. Keep a soft copy on your email too, so you're always ready to forward it on to any interested contacts.
#3 Do your research
Just like learning what new bus route you'll need to take or whether or not you can look forward to casual Fridays, do your research and find out more about the company you're about to potentially invest 40+ hours of your life each week.
Read the 'About us' page on the company website, Google search 'News' items on the company to find out what your new CEO or spokesperson is saying about topical issues related to the business and visit the industry's peak body website to find out what the main industry pressures are and who the key influencers are.
For people with disability, you need to know if they're an accessible workplace with a 'can-do' culture so you're not fighting for what you need before you've even applied for the job.
#4 Find a company with a positive cultural fit
When I first entered the workforce I was surprised to find that many employers didn't know how to communicate effectively with me or assimilate my disability well.
Before I started working at HCF, many of my previous employers were very supportive at the start and wanted to do their bit by hiring a person with disability, but the best intentions collapsed without good planning and commitment to ongoing support. My boss and colleagues at HCF readily accommodate my hearing loss and back this up with well-thought out planning and steps for implementation.
People shouldn't mistake deafness for a lack of intelligence. It's about adjusting how you communicate, and it's the little things that make a big difference like speaking clearly, finding quiet and well lit areas to talk and recapping key meeting points in an email. Be prepared to have an open and honest conversation with your boss if you feel like you're not getting the support you need to succeed in your role.
#5 Get comfy with being outside of your comfort zone
It can feel uncomfortable being the one who isn't in the know. When you start any new job this is almost guaranteed to happen, so be OK with that. Give yourself the time and space you need to wrap your head around new work processes, industry terminology and team make up.
When you're in a more open, interested and curious mode (as opposed to feeling worried that you're not good enough), you're more likely to learn more and absorb new information more quickly.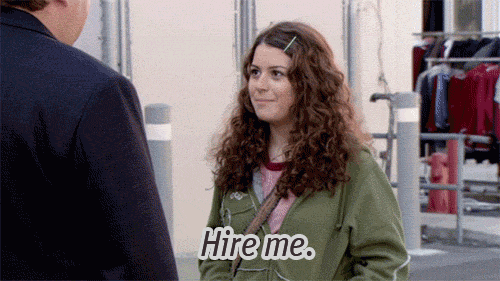 #6 Prioritise your health
As you transition from one job to another, self-care is important to help minimise any potential feelings of stress and anxiety and is critical for buffering any disappointments or setbacks. Try to make sure you're eating good food, getting enough sleep, exercising and taking care of your mental health.
These healthy habits all contribute to keeping your head clear and mind sharp so you're ready to kick your work goals. Establishing a solid support network of family, friends and even a good GP to talk to can be super helpful too.
#7 Don't blame your own issues for poor performance
Take ownership of anything that's going on in your personal life before trying to tackle new challenges at work. Whether it's a break up, a disability or a financial setback, be aware of the steps you need to take to manage those issues yourself, to the best of your ability, and don't let them become a scapegoat or the things you blame for poor or slow performance at a new job.
#8 Don't be a guinea pig for everything
Even when you're the newest kid on the company block, more often than not someone has done the same job before you. Don't feel like everything you do has to be a process of trial and error.
Ask your boss if there's a preferred way of doing things, or if you have a handover with outgoing staff, ask them if there's anything they'd recommend you implement for faster results. Don't waste time reinventing the wheel when a perfectly good solution probably already exists.
#9 Get a copy of the company bible
When you start a new job, ask for a copy of the company's process manual or new starter guidelines. Having a single source of truth to refer to when it comes to the basics of the business will mean you won't have to ask your new boss simple questions that you could have answered yourself with a bit of light reading.
Getting the practical elements of your new job under control will also leave you more time to tackle the more exciting parts of what should be an exciting career opportunity. BUT…
#10 Never be afraid to ask for help
Most good bosses will let you know that there are no silly questions, especially when you're a new starter. Don't be afraid to ask for help, whether from your boss or your colleagues. Be as specific as possible about what it is you need or are finding difficult to understand.
If there are a few things you want to discuss, offer to take your boss or a workmate out for a coffee to go over everything at once and in a setting where you're more relaxed and thinking clearly.
Building positive relationships with your managers and colleagues is important and will no doubt have a big impact on your ongoing success.
---
Julia Gilchrist is an Administration Coordinator at HCF in Sydney. Julia was born profoundly deaf and through this experience, became passionate about communication, social inclusion and driving conversations on public health.