Career
Watch These Films For Career Inspiration
Sometimes we watch films and gain nothing. On a purely entertainment or escapist level, there's a lot of value in that. Other times we watch films that flip our world views, annihilate our tear ducts, or make us really angry. That's great too. But then there are films that, in strange and unexpected ways, say something useful and instructive – especially when it comes to careers.
From teaching us how to confront/survive the 9 to 5 grind, how to deal with misguided ambition, or what to do when we're ready to call it quits, here are some great pointers from some of your favourite films.
Office Space (1999)
Peter Gibbons crunches data in a cubicle and hates his job. In fact, he hates it so much that he explains to his hypnotherapist, "Every single day of my life has been worse than the day before it. So that means that every single day that you see me, that's on the worst day of my life." A bit heavy.
However, Office Space is one of the funniest films about working ever made – a twisted anti-establishment story that brought us this scene:
…and a string of inspirational messages about finding work that won't totally crush your spirit.
Career lesson: If you're fed up with your job – do something about it. Also, remember that co-workers can be the best.
Jerry Maguire (1996)
This film is peak Tom Cruise – scary-smiley, boyishly charismatic, and super quotable. He plays Jerry Maguire, a disenchanted sports agent who miraculously develops a conscious and gets fired for voicing it. You'll either view this film as an absolute cheese-fest, or an enduring, teary-eyed classic about the benefits of sticking to your guns, starting your own business, and not forgetting about what you value most. Hopefully both.
Career lesson: Getting fired or made redundant sucks, but you can use it to your advantage. Also, building personal relationships at work can be everything.
The Devil Wears Prada (2006)
Andy (Anne Hathaway) is an ambitious journalism grad who wants to make it in New York. She ends up at a Vogue-like fashion magazine, run by the terrifyingly ice-cold Miranda Priestly (Meryl Streep). Iconic and thoroughly quotable, this film will speak to anyone who has slaved in a cutthroat profession, been handed down outrageous demands from their boss, and consistently wondered if there's more to life than work.
Career lesson: Ambition is amazing, unless it makes you unhappy. Also, know what to wear to work.
Home Alone (1990)
Kevin McCallister is easily the most resourceful character in film history – not to mention an incredibly gifted theft-prevention strategist. He's also eight. On one hand, Home Alone is your favourite Christmas movie ever. On the other, it's a deeply instructive guide on how to successfully work from home and stay calm under pressure.
Career lesson: When your faced with a problem, get creative and use your resources. Also, if you're an employer – don't underestimate young people.
Reality Bites (1994)
It might have come out more than two decades ago, but Reality Bites still has a lot to say about the crippling uncertainty of life in your twenties. The film basically revolves around four friends trying to fend for themselves in a financially and socially hostile world – AKA the real world. Ethan Hawke is at his floppy-haired, philosophical best as Troy, while Winona Ryder's Lelaina seamlessly embodies the whole "how to find meaning in work and balance your identity at the same time" vibe. If you're feeling a little pathetic, and you need to know you're not the only one, just watch this movie.
Career lesson: When you're in your twenties, and beyond, it's okay to have no idea what you're doing.
The Social Network (2010)
You've probably heard of Facebook. And you've probably seen this whip-smart film about how Mark Zuckerberg came up with the idea. Aside from it simply being a great movie full of great scenes and great performances (JT included), it manages to say a lot about the nature of entrepreneurship and the realities of building a tech startup.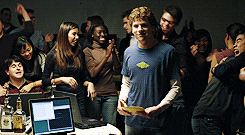 Career lesson: There's a lot that goes into startups, but if you've got a great idea, it can be totally worth it. Just don't dog ya mates along the way.
Wall Street (1987)
The film's plot is pretty straightforward: Bud Fox (pre-weird Charlie Sheen) is a hungry young broker desperate to make a killing. He gets seduced into the shady world of Gordon Gekko (Michael Douglas) – a charismatic yet predatory Wall Street trader. From here, the film spirals into a cautionary tale about the destructive values of American capitalism and financial competitiveness. If you hate high finance, you'll love Wall Street. If you love high finance, you'll probably still love Wall Street.
Career lesson: Greed is not good.
The Matrix (1999)
Ever felt like your job doesn't feel right? Like there's another career, reality even, that you should be living? That perhaps you're actually in a simulation? Okay, maybe not the third one, but you get it.
For all its bullet-dodging, cyber-awesomeness, The Matrix also speaks to anyone itching to break free from their current job and find something they believe is real – just like our mate Neo.
Career lesson: It's never too late to consider a career change.
---
Doug Whyte is a freelance writer and copywriter. He's worked in branding agencies, digital publishing and written a bunch of articles for a bunch of publications.