Career
What It's Like Quitting Your Dream Job To Write A Novel
Self-described 'chillionaire,' Lana Guineay, has come a long way from her days spent flying back and forth between London and Sydney, rubbing shoulders with the style set and generally killing it as part of fashion empire, ASOS's global team. But things are different now.
Currently living in a beach shack in her hometown of Adelaide, Lana has traded days spent brainstorming campaign ideas, working on photo shoots, uploading online content and packing bags for events, for a much quieter life; writing her "surf noir" novel, researching, meditating, swimming and eating, and she is more than OK about the change of pace.
How do you land a role like that?
Having worked in fashion for six years in both Australia and the UK, Lana says she was fortunate enough to meet some people from ASOS, realising the affinity she had for what the brand was all about. "One part of working in fashion is finding where you fit," she says. "I was lucky in that ASOS is about positivity, supporting emerging talent, and the view that clothes are only one part of what style is."
If you're thinking: 'well, that sounds like a total dream job' then that would make you 100% correct.
"It was the best of both worlds," Lana elaborates. "It's a huge multi-national company, with thousands of people working in the London head office – but the satellite team in Australia was only 7 people, and had a real indie, tight-knit feel. As someone who has a real passion for collaboration and working with other people, it was an inspiring learning experience."
Fashion had always been on the cards for Lana, who started her career interning at YEN magazine and began working her way up the ranks.
And you would leave that behind, why?
Lana has never had any illusions about the dynamic nature of interests, thoughts and passions. "The great thing about passions, like everything else in life, is that they change. The trick is to be honest with yourself, and realise when they've changed, and when to change your life," says Lana.
Rarely are we a one-trick pony, and for Lana, she's "always been interested in books and literature." After studying creative writing at university, she'd written a couple of short stories that were published; "I always thought that one day I'd ditch the so-called glamorous life of a fashion editor to be a hermit and release my inner Woolf."
Lana says two things happened that really helped her make up her mind to leave her dream job at ASOS to pursue her own personal dream:
"Firstly, while in the UK for work, I decided to use my holidays in the most geeky way possible: by doing summer school in creative writing at Oxford University. The full Hogwarts experience!" She says the creative energy poured out. "Ideas came easy and fast and the quiet voice that suggested the idea for my story was there, I just had to listen to it. This vague notion of a book – a surf noir novel set in the Australian tropics – started to make itself known."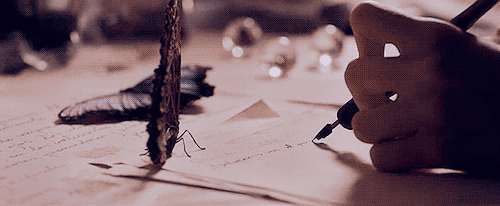 She says she returned home from Oxford feeling inspired and creative, but quickly went back to her normal day-to-day life at ASOS. But her subconscious was having none of it, with the seed officially planted. "One night Hunter S Thompson appeared to me in a dream and said, "Quit your job tomorrow. Write a novel!" she laughs. "And when Hunter talks, you listen."
And so she did. Call her crazy, but the next day, Lana handed in her resignation.
But what if you love your job?
While she is first to admit that it was the best decision she's made and she has no plans on looking back, Lana will also readily confess that it wasn't a simple decision. Anyone who has come to rely on a regular pay check would understand.
"It would have been much easier to quit if I hated going to work. But I didn't," she says. "I didn't win the lottery, or even have another job to go to. But I did have some industry contacts, and had freelanced before, so I knew I could make it work."
The most important thing in the decision-making process? Not living with regrets. "I didn't want to be 80, look back on my life, and think 'what if?' I'd rather try and fail, than not try and have regrets."
She packed her bags and moved into her little beach shack, far removed from the fast-paced Sydney and London. She surrounded herself with loved ones, taught herself to live a slower-paced life and did a course in criminology. "This now means I have the weirdest, shadiest browser history," Lana laughs.
Is location important?
It's a question a few of you might be wondering: why not just stay in Sydney, especially if that's where most of your friends are?
"I needed a quiet place to tune in, focus and change my lifestyle. Adelaide was the perfect place to drop out and write a novel. After many years of travelling, and living overseas and interstate, Adelaide gave me an ideal setting to focus on the simple things, think, and write," Lana says.
For a creative pursuit like writing, being able to dedicate yourself to the cause is positively impacted by a location that lends itself to being able to focus. "The pace of life is chilled, the cost of living is low, there's a real arts and food culture here, and the beaches are beautiful – and empty!" OK, we get it now.
What do you learn from taking this kind of leap?
Lana's career transition has solidifed her views on what defines happiness and success. "Personally, my measure of success is happiness," she says. "But it's not something you can pin down and tick that box: done, I'm happy. It changes."
She knows that it can be really difficult to disengage from other people's ideas of what success is. "Having a great job is a lot of people's definition of success. But I think it's really important to come up with your own definition of what matters – and to not worry if other people think it's weird or foolish. We're all weirdos in our own way."
Having said that, it doesn't make it any easier. "At first I did ask myself 'is this crazy?' I sold a lot of my stuff, I packed up my life into boxes, and I moved back to my hometown with no solid work plans. I had no idea how to write a novel, or if I even could, but I didn't doubt that the decision was right." If you decide to follow your intuition all the way to the end, it's crucial to see it through: "Even when it was hard and life threw shiny distractions in my path, I knew I was in it until it was finished."
Considering leaving the 9-5 grind for a dream?
Lana has some advice for those wanting to do take a risk and go after that niggling passion: "I think a lot of us get to a point in our working life where we think 'why am I making someone else money and using up my best creative gold on someone else's dream?' Why not put the same effort and creativity into our own dreams?"
Lana acknowledges that might not mean quitting your job and moving to the beach to write a novel, but it does mean making changes to make it work: maybe you have to take on part time work to allow you to do what you really love. "Having savings helps!" she adds, and "having a supportive network of people, both professionally and personally, helps even more."
However you get there, Lana says, "I do recommend at least once in your life to put yourself in a position where you can comfortably take some time and work on a dream project… Being eccentric, being yourself without caring what other people think, following your curiosity, doing what you enjoy, trying something new, and taking life easy every once in a while – to me these are pretty great markers of a life well lived."
---
"Eat, sleep, tweet, repeat" is the mantra Melbournian Sam Sidney lives by. When she's not running her digital marketing and social media business Milkbar Digital, she can be found pretending to be hosting a cooking TV show, or outside patting your cat.
Lead image: This Is Hype